Green Lipped Mussels
(Item #50) 60-70 Individually Quick Frozen (iQF) Green Lipped Mussels (45 x 1.4oz servings).

Grown in the pristine, nutrient-rich waters of New Zealand, Sealand's mussels are a true delicacy. Never dredged or artificially fed, with no chemicals, artificial flavours, colours or additives - all you're getting is the finest quality premium mussels. With a beautiful green-tinted shell, these plump and juicy mussels are guaranteed to impress at your next dinner party.

$8900
---
What you Get
In The Box
- Box contains 2 Sealed 900g Bags, each containing 30-35 Green Lipped Mussels (by weight)
- Minimum Box weight: 1.8kgs (4.0lbs)

Suggested Servings
- Suggested Serving Size per the Nutrition Facts label - 40g (1.4oz)
- Contains 45 x 40g (1.4oz) servings
Best Ways to Cook
We recommend that all our seafood products be thawed out of packaging for 24 hours in the refrigerator prior to heating (unless otherwise stated). These mussels come fully blanched, meaning all that's left for you to do is heat them using the following method.
How to Heat Mussels
In a large pot, make the sauce of your choosing, such as marinara, curry sauce or white wine broth. Over medium-low heat, add the mussels to the sauce and cook for 5-7 minutes until they are warmed to your desired temperature.
Try It Tonight
Panko Crusted Green Lipped Mussels
Fancy appetizers don't come much easier than this quick cook mussels recipe!

Take great quality Sealand green lipped mussels and combine them with a crispy Panko batter seasoned with garlic, lemon zest and parsley. A simple yet elegant dish that is perfect for entertaining!
Nutrition Facts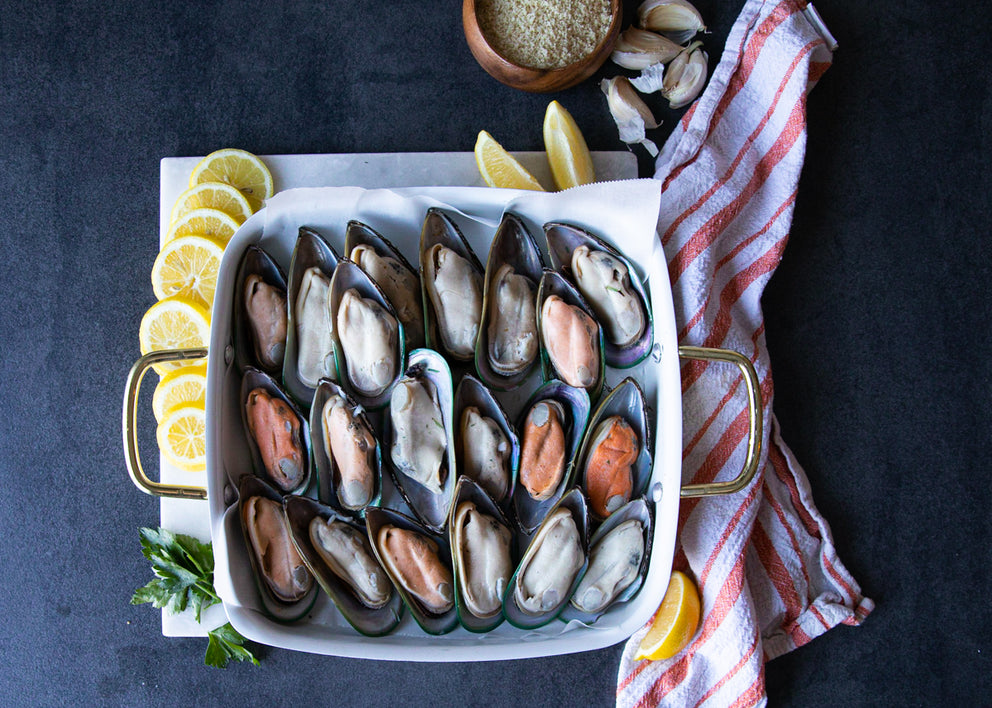 INGREDIENTS: Green Lipped Mussels
Nutrition Value
Serving Size (40g) / Portion (3/4 Cup / 3/4 Tasse)
Amount
% Daily Value
Calories 70
Fat / Lipides 2g
3%
Saturated / Saturés 0.5g
+ Trans 0g
2%
Carbohydrate / Glucides 3g
Fibre / Fibres 0g
Sugars / Sucres 0g
Protein / Protéine 10g
Cholesterol / Cholestérol 25mg
Sodium 160mg
Vitamin A / Vitamine A
2%
Calcium
2%
Iron / Fer
15%
Vitamin C / Vitamine C
10%
Potassium
0%
Vitamin D / Vitamine D
0%