Breaded Veal Schnitzels
(Item #27) Fifteen 4oz Breaded Veal Schnitzels, with a mouthwatering golden crust.

Sealand's veal schnitzel is Canadian sourced from grain fed veal for superior flavour and quality. Breaded to perfection with flour, egg and breadcrumbs, providing a deliciously crispy golden crust when cooked. Individually Quick Frozen (iQF) to lock in freshness and ensure right-sized portions every time, allowing for a convenient gourmet meal. It can easily be served as the main dish or as a schnitzel sandwich.

$13500
---
What you Get
In The Box
- Box contains 15 Individually Vacuum-Packed Breaded Veal Schnitzels (by weight)
- Minimum Box weight: 1.7kgs (3.75lbs)

Suggested Servings
- Suggested Serving Size per the Nutrition Facts label - 112g (4oz)
- Contains approximately 15 x 112g (4oz) servings
Best Ways to Cook
Here at Sealand Quality Foods, our premium products are Individually Quick Frozen in right-sized portions for the perfect serving every time. Cook Breaded Veal Schnitzel from frozen using one of these simple cooking methods.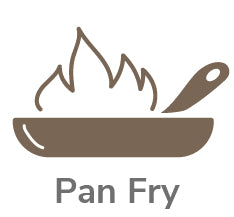 How to Pan Fry Veal Schnitzel
Heat a thin layer of oil in a wide frying pan or skillet, over medium-high heat. Add the frozen veal cutlets in a single layer, making sure not to overcrowd. Fry until golden brown, around 2-3 minutes, and then flip and continue cooking approximately 2-3 more minutes until the internal temperature registers 5-10°F lower than your desired doneness (see internal temperature guidelines below). Do not overcook.

Let the veal rest for 3-5 minutes prior to serving. Temperature will continue to rise while resting.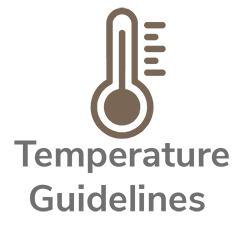 Internal Temperature Guidelines for Cooking Veal
Medium: 150°F, 66°C - Slightly firmer texture
Medium Well: 160°F, 71°C - Firm texture
Well Done: 170°F, 77°C - Very firm texture

Cooking times and temperatures may vary based on the method of preparation and your desired degree of doneness. Test for doneness with a meat thermometer.
Try It Tonight
Breaded Veal Schnitzel
Sealand's Breaded Veal Schnitzel with an extra crunchy chip coating seasoned with fresh or dried herbs. Pan fried in hot oil for 2 minutes per side and served as a meal on a bed of greens garnished with lemon. Or make this veal schnitzel into a sandwich with your favourite toppings.
Nutrition Facts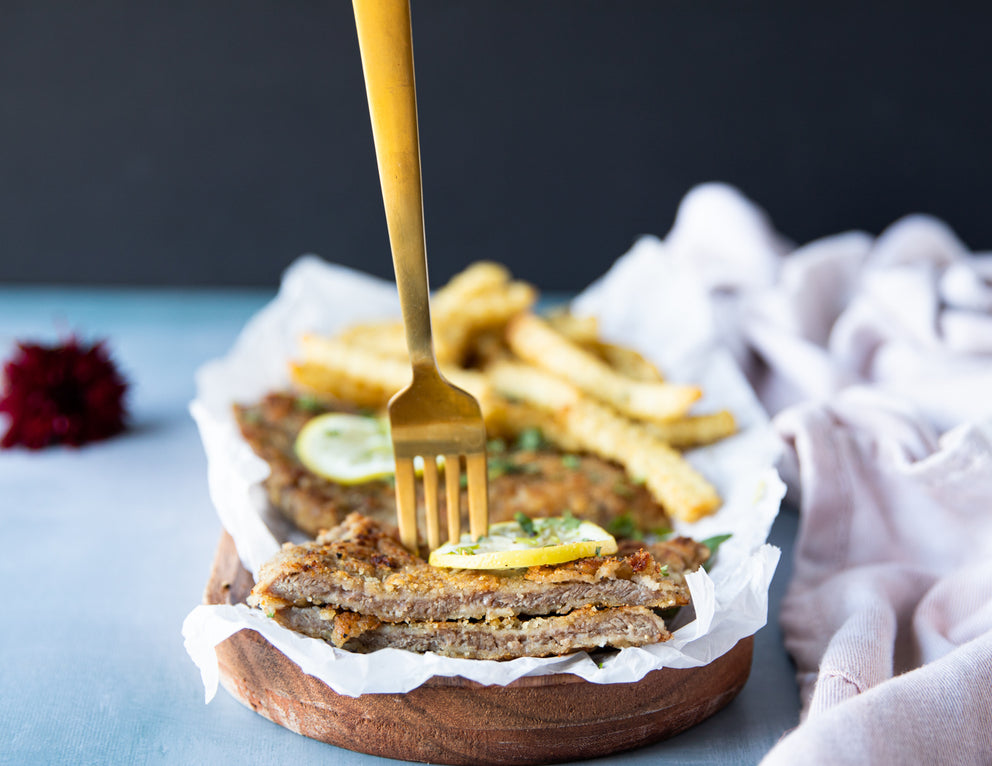 INGREDIENTS: Veal, Breading (Toasted wheat crumbs, water, starch, modified starch, cornflour, salt, guar gum, spices, dextrose, and hydrogenated vegetable oil). Allergens: Wheat, Eggs. Other allergens: Depending on the specific recipe or brand, breaded veal schnitzel may contain other allergens such as soy, dairy, or mustard, depending on the ingredients and seasonings used.
Nutrition Value
Serving Size (113g) / Portion (1 Cutlet)
Amount
% Daily Value
Calories 194
Fat / Lipides 7.8g
10%
Saturated / Saturés 2.6g
+ Trans 0g
13%
Polyunsaturated / Polyinsaturés 1.3g
Monounsaturated / Monoinsaturé 2.9g
Carbohydrate / Glucides 8.3g
Fibre / Fibres 0.3g
Sugars / Sucres 0g
Protein / Protéine 23g
Cholesterol / Cholestérol 95mg
Sodium 386mg
17%
Vitamin A / Vitamine A
0%
Calcium 33mg
3%
Iron / Fer 1.3mg
8%
Vitamin C / Vitamine C
0%
Potassium 315mg
7%
Vitamin D / Vitamine D
0%