Tuna Ahi Steaks
(Item #104) 13-14 Individually Quick Frozen (iQF) Tuna Ahi Steaks precision cut from premium Yellowfin Tuna (20 x 4oz servings).

Sealand's wild caught Tuna Ahi Steaks are perfect on the grill. This sushi grade tuna can also be used for sashimi or quickly pan-seared rare. These steaks are cut from ahi tuna and have a firm texture and mild, meaty flavour. They are Halal, Kosher Certified, and Gluten-Free. Be careful not to overcook, or the tuna steaks could become less moist and flavourful.

$13900
---
What you Get
In The Box
- Box Contains 13-14 Individually Vacuum-Packed Tuna Ahi Steaks (by weight)
- Minimum Box weight: 2.27kgs (5.0lbs)


Suggested Servings
- Suggested Serving Size per the Nutrition Facts Label - 113g (4oz)
- Contains approximately 20 x 113g (4oz) servings
Best Ways to Cook
We recommend that all our fish products be thawed out of packaging for 24 hours in the refrigerator prior to cooking (unless otherwise stated). And why not try one of these simple cooking methods.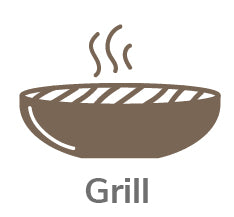 How to Grill Tuna
Preheat BBQ to high heat and brush grill grates with olive oil. Pat dry and rub thawed tuna steaks with olive oil. Season with salt and pepper to taste. Place steaks on grill and close lid. Cook for 1-2 minutes per side until the outside is seared and the inside remains rare. Slice and serve.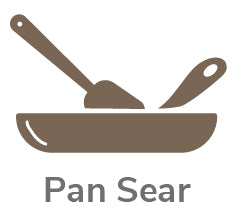 How to Pan Sear Tuna
Heat a large frying pan over high heat. Add 1 tbsp of sesame oil to the pan. Pat dry the thawed tuna steaks and season with sea salt and pepper and sesame seeds. Place in the pan and sear for 1 minute per side. Slice and transfer to serving bowls.

Cooking times and temperatures may vary based on the method of preparation and the thickness of the fish. Test for doneness with a meat thermometer.
Nutrition Facts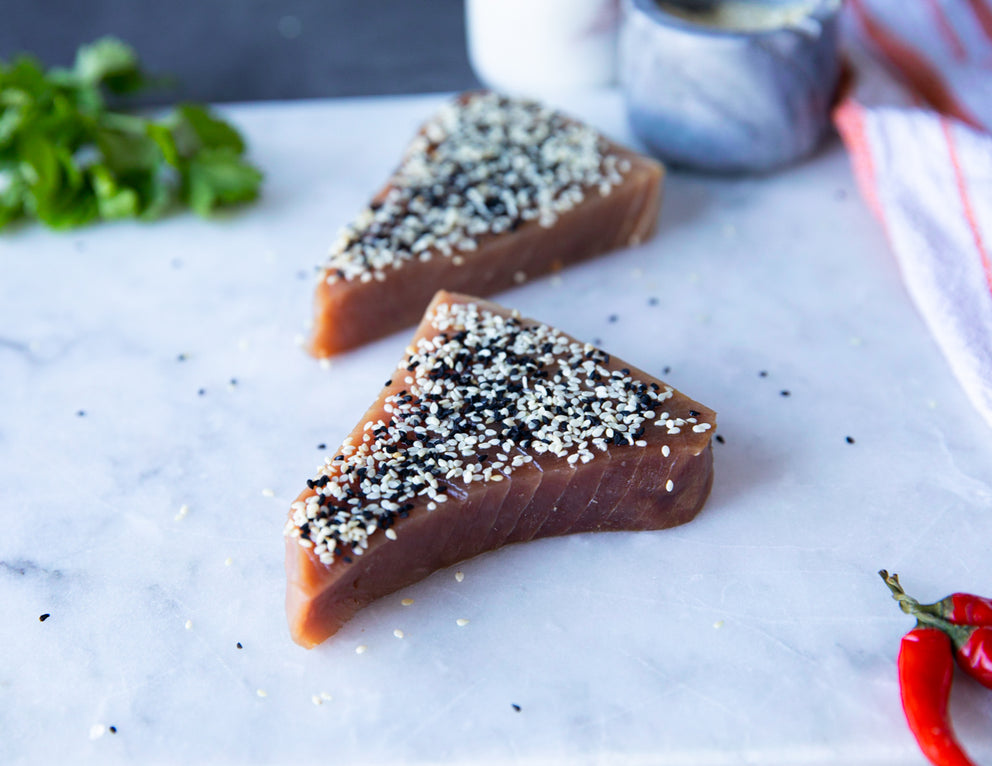 INGREDIENTS: Ahi (Yellowfin) Tuna, water ascorbic acid, sodium citrate, sodium ascorbate, salt, and rosemary extract. Allergens: Fish
Nutrition Value
Serving Size (113g)
Amount
% Daily Value
Calories 120
Fat / Lipides 0g
0%
Saturated / Saturés 0g
+ Trans 0g
0%
Carbohydrate / Glucides 0g
Fibre / Fibres 0g
0%
Sugars / Sucres 0g
0%
Protein / Protéine 27g
Cholesterol / Cholestérol 50mg
Sodium 60mg
Vitamin A / Vitamine A
0%
Calcium
1%
Iron / Fer
0%
Vitamin C / Vitamine C
0%
Potassium
0%
Vitamin D / Vitamine D
0%