Gluten-Free Beyond Meat Vegetarian Burgers
(Item #999) 24 Gluten-Free Beyond Meat Burgers, vacuum-sealed in 6 individual packages.

Sealand's Beyond Burgers are the ideal plant-based alternative for your next BBQ. Individually Quick Frozen (iQF) to lock in the flavour and texture. Crafted with soy-free, non-GMO ingredients, these delicious gluten-free burgers are the perfect low-fat, high-protein vegan option. Easy to prepare and ready in minutes, adding more plant-based items into your diet has never been easier.

$11400
---
What you Get
In The Box
- Box Contains 6 packs (4 burgers per pack) of Individually Vacuum-Packed Gluten-Free Beyond Meat Burgers (by weight)
- Minimum Box Weight 2.2kgs (4.87lbs)


Suggested Servings
- Suggested Serving Size per the Nutrition Facts Label 100g (3.5oz)
- Contains approximately 22 x 100g (3.5oz) servings
Best Ways to Cook
We recommend thawing the Beyond Meat Burgers for 24 hours in the refrigerator prior to cooking. Here at Sealand Quality Foods, our premium products are Individually Quick Frozen in right-sized portions for the perfect serving every time. Give one of these simple cooking methods a try today.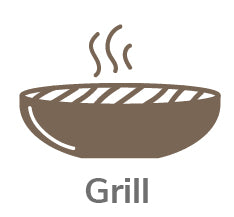 How to Grill Beyond Meat Burgers
Preheat the grill to high heat. Once the grill is hot, place the thawed Beyond Burgers on the grill. Cook for 8 minutes (flipping halfway through) or until the internal temperature of the burger reaches 165°F.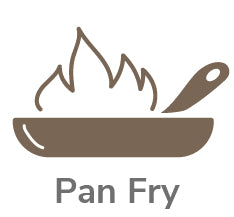 How to Pan Fry Beyond Meat Burgers
Heat a non-stick frying pan over medium-high heat. Add the thawed Beyond Burgers, making sure not to overcrowd the pan. Fry for 8 minutes (flipping halfway through) or until the internal temperature of the burger reaches 165°F.

Cooking times and temperatures may vary based on the method of preparation and your desired degree of doneness. Test for doneness with a meat thermometer.
Try It Tonight
BBQ Gluten-Free Beyond Meat Burgers
Say goodbye to the hockey puck veggie burgers of your childhood - Beyond Burgers are a delicious plant-based alternative that capture the juicy, meaty texture and taste of traditional burgers, but without any gluten or animal products.

Made from a blend of plant-based ingredients, these impressively thick patties are a fantastic choice for those seeking a meat-free option that doesn't compromise on flavour.
Nutrition Facts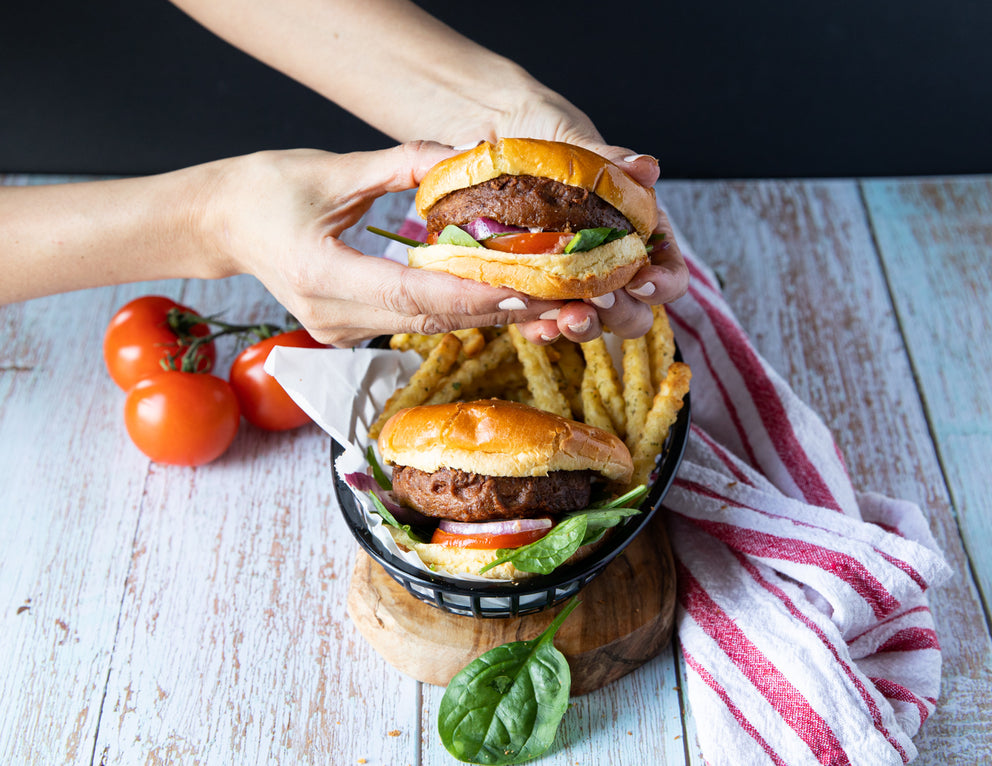 INGREDIENTS: Water, Pea Protein, Canola Oil, Flavour, Refined Coconut Oil, Rice Protein, Dried Yeast, Cocobutter, Methylcellulose, Potato starch, Apple extract, Potassium chloride, Salt, Vinegar, Concentrated lemon juice, Beet juice extract (vegetable glycerin, water, ascorbic acid, beet extract, maltodextrin), Pomegranate extract, Sunflower lecithin, Vitamins and minerals (niacin [Vitamin B3], pyridoxine hydrochloride [vitamin B6], thiamine hydrochloride [vitamin B1], riboflavin [vitamin B2] cyanocobalamin [vitamin B12], calcium pantothenate, ferric orthophosphate, zinc sulphate)
Nutrition Value
Serving Size (100g)
Amount
% Daily Value
Calories 206
Fat / Lipides 13.4g
Saturated / Saturés 4.9g
+ Trans 0.06g
Carbohydrate / Glucides 7.9g
Fibre / Fibres 2.05g
Sugars / Sucres 0g
Protein / Protéine 18.3g
Cholesterol / Cholestérol 0mg
Sodium 324mg
Pantothenate / Pantothénate 1.07mg
Calcium 38.5mg
Iron / Fer 5.06mg
Magnesium / Magnésium 21.6mg
Vitamin B6 / Vitamine B6 0.6mg
Riboflavin / Riboflavine 0.2mg
Zinc 4.4mg
Copper 0.16mg
Vitamin B12 / Vitamine B12 1.97mg
Vitamin C / Vitamine C 25mg
Potassium 406mg
Niacin / Niacine 9.79mg