Sous Vide Half Chickens
(Item #108) Four tender and juicy Individually Quick Frozen (iQF) Sous Vide Half Chickens (27 x 3.5oz servings)

Sealand's Half Chickens are pre-cooked to perfection using a sous-vide technique, resulting in tender, juicy, fall-off-the-bone meat. Sous-vide is a cooking method that involves vacuum-sealing the chicken and immersing it in a water bath at a precise temperature for a long time. This locks in the moisture and flavour, while ensuring the chicken is cooked evenly. You can finish them on the grill, in the oven, or in a skillet to get a crispy and golden skin.
$9600
---
What you Get
In The Box
- Box contains 4 x Vacuum-Packed Half Chickens (2 packs with 2 half chickens per pack)
- Minimum Box weight: 2.72kgs (6.0lbs)


Suggested Servings
- Suggested Serving Size per the Nutrition Facts Label - 100g (3.5oz)
- Contains approximately 27 x 100g (3.5oz) servings
Best Ways to Cook
We recommend that all our meat products be thawed out of packaging for 24 hours in the refrigerator prior to cooking (unless otherwise stated). Give one of these simple cooking methods a try today.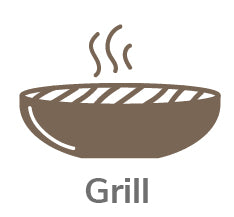 How to Grill Chicken
Preheat the grill to high heat. Brush the defrosted chicken with your favourite barbecue sauce or marinade. Once the grill is hot, place the chicken on the grill, bone side down. Heat on medium-high heat, with the BBQ cover down, for 8-10 minutes or until lightly caramelized on the outside and internal temperature reaches 165°F.
How to Oven Roast Chicken
Preheat oven to 400°F. Remove chicken from freezer and take off packaging (no need to defrost). Chicken is pre-seasoned but feel free to add a sprinkle of salt and pepper to your liking. Line a baking tray with foil and place chicken skin side up on the tray. Roast in oven for 35-40 minutes or until internal temperature reaches 165°F.

Cooking times and temperatures may vary based on the method of preparation and your desired degree of doneness. Test for doneness with a meat thermometer.
Nutrition Facts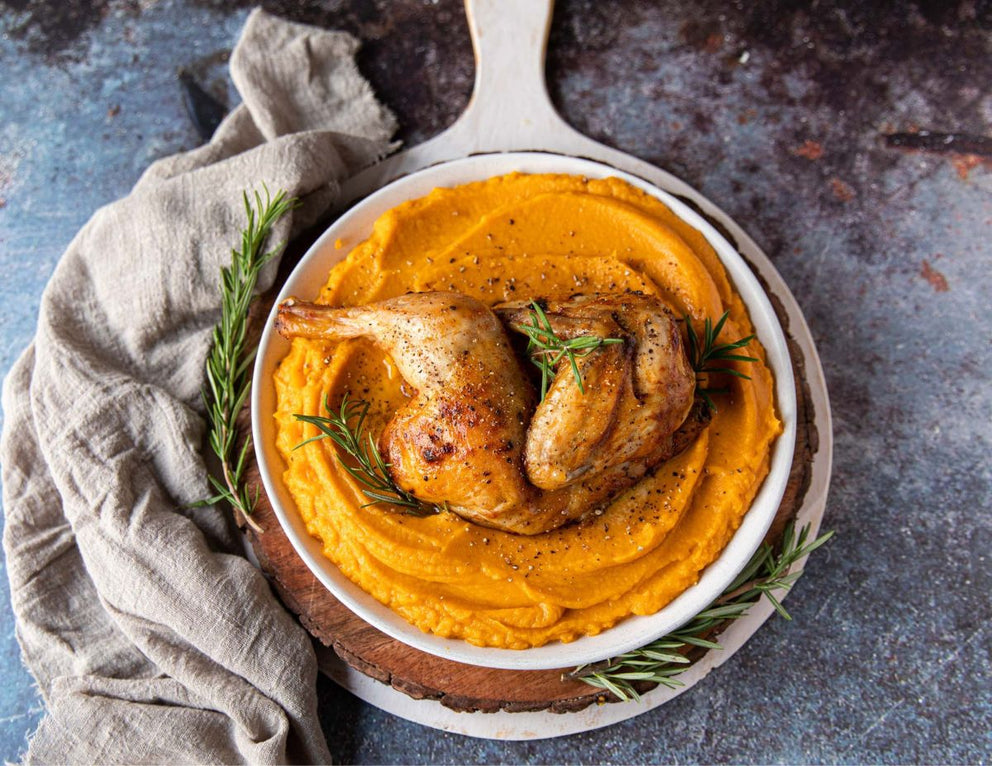 INGREDIENTS: Chicken, salt, maltodextrin, spices & spice extracts, garlic powder, onion powder, sugar, caramel colour, smoke flavour. Allergens: Garlic, Onion.
Nutrition Value
Serving Size (100g)
Amount
% Daily Value
Calories 240
Fat / Lipides 13g
20%
Saturated / Saturés 3.5g
+ Trans 0g
18%
Carbohydrate / Glucides 2g
Fibre / Fibres 0g
0%
Sugars / Sucres 0g
0%
Protein / Protéine 23g
Cholesterol / Cholestérol 75mg
Sodium 530mg
22%
Vitamin A / Vitamine A
0%
Calcium 22mg
2%
Iron / Fer 1.3mg
8%
Vitamin C / Vitamine C
0%
Potassium 200mg
6%
Vitamin D / Vitamine D
0%