Personal Cedar Plank Salmon
(Item #89) 11-12 marinated Personal Cedar Plank Salmon (22 x 3.5oz servings).

Sealand's cedar plank Atlantic salmon is covered in a sweet and smoky marinade with hints of orange peel, apple and ginger. Each succulent salmon fillet is Individually Quick Frozen (iQF) on top of a personal size cedar plank. Made for the BBQ, these cedar planks infuse the salmon with extra flavour and are an easy way to keep your grill clean.

$13600
---
What you Get
In The Box
- Box contains 11-12 Individually Vacuum-Packed Personal Cedar Plank Salmon (by weight)
- Minimum Box weight: 2.2kgs (4.85lbs)


Suggested Servings
- Suggested Serving Size per the Nutrition Facts label - 100g (3.5oz)
- Contains approximately 22 x 100g (3.5oz) servings
Best Ways to Cook
We recommend that all our fish products be thawed out of packaging for 24 hours in the refrigerator prior to cooking (unless otherwise stated). Alternatively, place vacuum pack in cold water until thawed (20-40 minutes). And then try one of these simple cooking methods.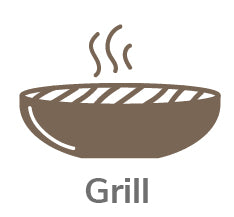 How to Grill Cedar Plank Salmon
Preheat BBQ to medium heat. Remove thawed salmon from packaging and place plank directly on the grill. Cook for 12-15 minutes or until the internal temperature at the thickest part of the fish reaches 145°F. Serve and enjoy!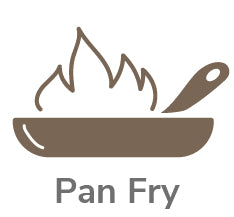 How to Air Fry Cedar Plank Salmon
Preheat air fryer to 325°F. Place thawed salmon on cedar plank directly in the air fryer basket. Cook for 11 minutes or until the internal temperature of the salmon reaches 145°F. The salmon should flake easily.

Cooking times and temperatures may vary based on the method of preparation and the thickness of the fish. Test for doneness with a meat thermometer.
Nutrition Facts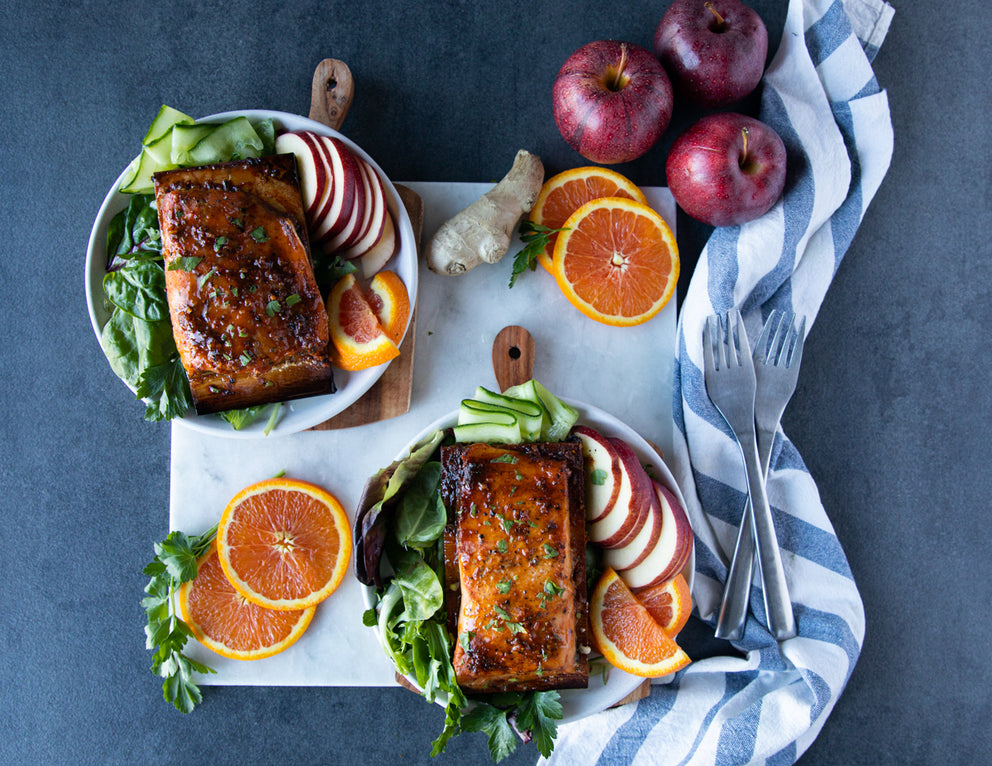 INGREDIENTS: Atlantic salmon fillets (fish), sugar, brown sugar, water, dextrose, spices, sea salt, dehydrated vegetables (onion, garlic), orange peel, ginger, flavour, natural smoke flavour. Allergens: Fish, Onion, Garlic.
Nutrition Value
Serving Size (100g)
Amount
% Daily Value
Calories 200
Fat / Lipides 10g
13%
Saturated / Saturés 2g
+ Trans 0g
11%
Polyunsaturated / Polyinsaturés 2g
Omega 6 Fatty 0.7g
Omega 3 Fatty 1.8g
Monounsaturated / Monoinsaturés 3g
Carbohydrate / Glucides 14g
Fibre / Fibres 1g
Sugars / Sucres 12g
Protein / Protéine 15g
Cholesterol / Cholestérol 40mg
Sodium 350mg
Vitamin A / Vitamine A
0%
Calcium 20mg
2%
Iron / Fer 0.075mg
4%
Vitamin C / Vitamine C
0%
Potassium 350mg
7%
Vitamin D / Vitamine D
0%