Halibut Fillets
(Item #13) 9-13 flash-frozen wild Halibut Fillets (12 x 6oz servings).

Sealand's thick halibut fillets are wild caught and then Individually Quick Frozen (iQF) to preserve freshness and flavour. Halibut is a white saltwater fish known for its mild and sweet taste. With a slightly firm texture these fillets are made to grill, pan fry or oven-bake. Halibut is sustainably sourced and rich in nutrients, which makes it a fish you can feel good about.

$18400
---
What you Get
In The Box
- Box contains 9-13 Individually Vacuum-Packed Halibut Fillets (by weight)
- Minimum Box weight: 2.0kgs (4.4lbs)

Suggested Servings
- Suggested Serving Size per the Nutrition Facts label - 170g (6oz)
- Contains approximately 12 x 170g (6oz) servings
Best Ways to Cook
We recommend that all our fish products be thawed out of packaging for 24 hours in the refrigerator prior to cooking (unless otherwise stated). Give one of these simple cooking methods a try today.
How to Bake Halibut
Preheat oven to 400°F. Pat dry thawed halibut fillets and place in baking dish. Drizzle with olive oil and a squeeze of fresh lemon. Top with minced garlic and salt and pepper to taste. Bake for 12-15 minutes until halibut appears opaque and flakes easily, or until the internal temperature at the thickest part of the fish reaches 145°F.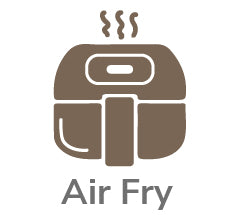 How to Air Fry Halibut
Preheat air fryer to 370°F and spray basket with oil. Add seasoning and cook for 11 minutes (flipping halfway through) or until the internal temperature of the halibut reaches 145°F. The fish should be golden and flake easily with a fork.

Cooking times and temperatures may vary based on the method of preparation and the thickness of the fish. Test for doneness with a meat thermometer.
Try It Tonight
Halibut with Greek Style Salad
Looking for a delicious meal that's healthy AND easy to make? Then check out this halibut with Greek style salad recipe!

Our wild caught Alaskan halibut fillets get the Mediterranean treatment with Kalamata olives, fresh cherry tomatoes and crumbled feta cheese. A quick and easy dinner that's big on flavour, without the fuss.
Nutrition Facts
INGREDIENTS: Halibut Fillets
Nutrition Value
Serving Size (170g)
Amount
% Daily Value
Calories 186
Fat / Lipides 4g
4%
Saturated / Saturés 0g
+ Trans 0g
0%
Carbohydrate / Glucides 0g
Fibre / Fibres 0g
0%
Sugars / Sucres 0g
0%
Protein / Protéine 36g
Cholesterol / Cholestérol 54mg
Sodium 92mg
31%
Vitamin A / Vitamine A
6%
Calcium
8%
Iron / Fer mg
8%
Vitamin C / Vitamine C
0%
Potassium
0%
Vitamin D / Vitamine D
0%