Gluten-Free Back Ribs in Barbecue Sauce
(Item #991) 10 Gluten-Free Back Ribs in BBQ sauce, individually vacuum-sealed (36 x 3.5oz servings).

Sealand's Gluten-Free Back Ribs are pre-cooked to perfection and smothered in a tangy BBQ sauce, so all you need to do is heat them up and enjoy. Individually Quick Frozen (iQF) to lock in the flavour and texture, these ribs are so tender they fall off the bone. Whether you're looking for an easy weeknight dinner or a way to elevate your barbecue game, we've got you covered.

$12500
---
What you Get
In The Box
- Box Contains 10 Individually Vacuum-Sealed Gluten-Free Back Ribs in BBQ Sauce (by weight)
- Minimum Box weight: 3.68kgs (8.1lbs)


Suggested Servings
- Suggested Serving Size per the Nutrition Facts Label 100g (3.5oz)
- Contains approximately 36 x 100g (3.5oz) servings
Best Ways to Cook
We recommend that all our meat products be thawed out of packaging for 24 hours in the refrigerator prior to cooking (unless otherwise stated). Give one of these simple cooking methods a try today.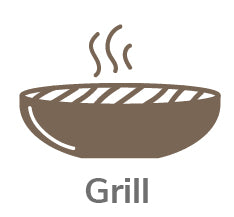 How to Grill Back Ribs
Preheat the grill to high heat. Once the grill is hot, place the thawed ribs on the grill and heat for about 10 minutes. Flip the ribs, baste with more barbecue sauce, if desired, and heat for an additional 5 minutes or until the ribs are crispy and caramelized on the outside.
How to Bake Back Ribs
Preheat oven to 400ºF. Place thawed ribs on a lightly oiled baking dish in the middle rack of your oven. Bake for 15-20 minutes or until heated through.

Cooking times and temperatures may vary based on the method of preparation and your desired degree of doneness. Test for doneness with a meat thermometer.
Nutrition Facts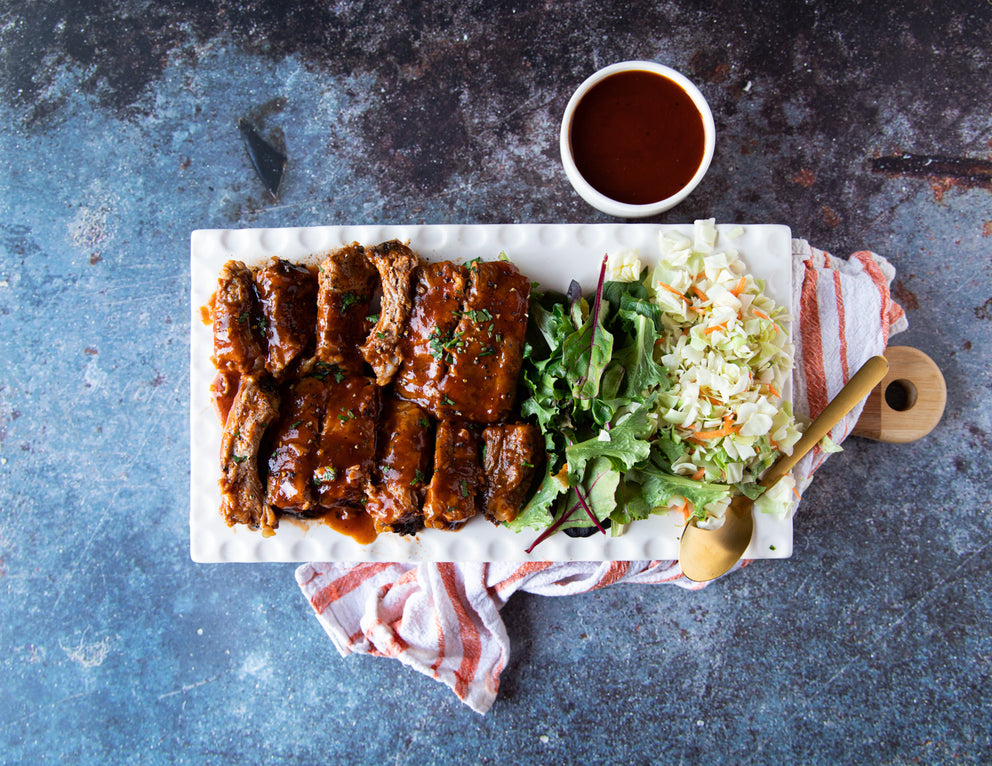 INGREDIENTS: Pork back ribs, Water, Sugar, White vinegar, Tomato paste, Salt, Spices (contains sulphites, soybean oil), Modified corn starch, Canola oil, Flavour, Hydrolyzed plant protein (soy), Dehydrated onion and garlic, Xanthan gum, Sunflower oil. Allergens: Sulphites, Soy.
Nutrition Value
Serving Size (100g - Edible Portion)
Amount
% Daily Value
Calories 190
Fat / Lipides 10g
13%
Saturated / Saturés 3.5g
+ Trans 0g
18%
Carbohydrate / Glucides 0g
Fibre / Fibres 0g
0%
Sugars / Sucres 9g
9%
Protein / Protéine 16g
Cholesterol / Cholestérol 50mg
Sodium 450mg
20%
Vitamin A / Vitamine A
0%
Calcium 100mg
8%
Iron / Fer 0.5mg
3%
Vitamin C / Vitamine C
0%
Potassium 225mg
5%
Vitamin D / Vitamine D
0%