Fully Cooked Pork Souvlaki Skewers
(Item # 11) 20-22 Fully Cooked Pork Souvlaki Skewers (20 x 3.5oz servings), perfect for grilling.

Immerse yourself in the vibrant flavours of the Mediterranean with Sealand's Fully Cooked Pork Souvlaki. Tender cubes of premium pork marinated in a blend of traditional herbs and spices, for a delicious and easy meal that's sure to impress. Individually Quick Frozen (iQF), perfectly cooked and conveniently threaded onto bamboo skewers, this authentic Greek delicacy is ready to sizzle on your grill.

$10800
---
What you Get
In The Box
- Box contains 1 Large Vacuum-Sealed Bag (approximately 20-22 Pork Souvlaki Skewers by weight)
- Minimum Box weight: 1.8kg (4.0lbs)

Suggested Servings
- Suggested Serving Size per the Nutrition Facts label - 85g (3oz)
- Contains approximately 21 x 85g (3oz) servings
Best Ways to Cook
Here at Sealand Quality Foods, our premium products are Individually Quick Frozen in right-sized portions for the perfect serving every time. These Pork Souvlaki Skewers come pre-cooked, meaning all that's left for you to do is heat, and serve. Give one of these simple heating methods a try today.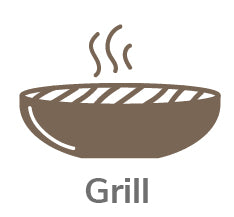 How to Grill Pork Souvlaki
Preheat barbecue grill to medium-high heat. Remove the frozen pork souvlaki skewers from their packaging and brush lightly with oil. Place the skewers directly on the preheated grill and heat for 4-6 minutes on each side or until the internal temperature reaches 160°F. Avoid overcooking as they are already fully cooked.
How to Bake Pork Souvlaki
Preheat oven to 375ºF. Remove the frozen pork souvlaki from their packaging and arrange them on a lightly greased baking sheet. Heat for 10-12 minutes, turning once halfway through. Avoid overcooking as they are already fully cooked.

Cooking times and temperatures may vary based on the method of preparation, adjust cooking times to ensure the product is cooked through.
Nutrition Facts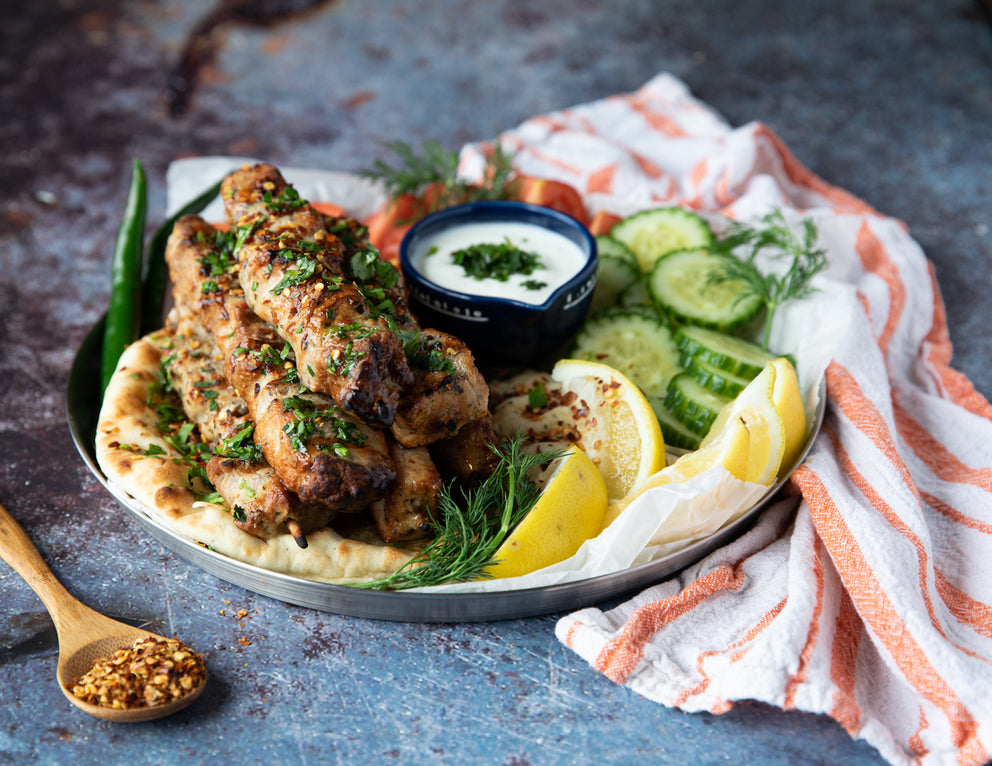 INGREDIENTS: Pork, water, soy protein, canola oil, sugars (corn syrup solids), modified corn starch, salt, spices and herbs, sodium phosphates, dehydrated vegetables (garlic , onion). Allergens: Soy.
Nutrition Value
Serving Size (85g) / Portion (1 skewer / 1 brochette)
Amount
% Daily Value
Calories 130
Fat / Lipides 5g
7%
Saturated / Saturés 1g
+ Trans 0g
5%
Carbohydrate / Glucides 3g
Fibre / Fibres 0g
0%
Sugars / Sucres 1g
1%
Protein / Protéine 17g
Cholesterol / Cholestérol 55mg
18%
Sodium 570mg
25%
Vitamin A / Vitamine A
0%
Calcium 10mg
1%
Iron / Fer 1mg
6%
Vitamin C / Vitamine C
0%
Potassium 350mg
7%
Vitamin D / Vitamine D
0%