Breaded Calamari Rings
(Item #78) 70-72 Breaded Calamari Rings in one large vacuum-sealed bag (18 x 3.5oz servings).

A crispy and flavourful seafood indulgence that will transport your taste buds to the shores of the Mediterranean. These tender calamari rings are delicately coated in a light and crispy breading, creating the perfect balance of texture and taste. Individually Quick Frozen (iQF) and effortless to prepare for a fast and convenient appetizer at any gathering.
$10300
---
What you Get
In The Box
- Box contains 1 Large Sealed Bag (approximately 70-72 Breaded Calamari Rings by weight)
- Minimum Box weight: 1.8kgs (4.0lbs)

Suggested Servings
- Suggested Serving Size per the Nutrition Facts label - 100g (3.5oz)
- Contains approximately 18 x 100g (3.5oz) servings
Best Ways to Cook
Here at Sealand Quality Foods, our premium products are Individually Quick Frozen in right-sized portions for the perfect serving every time. Cook your Breaded Calamari Rings from frozen using one of these easy methods.
How to Bake Calamari
Preheat oven to 400°F. Place the frozen calamari rings on a baking sheet lined with parchment paper or aluminum foil. Bake the calamari for 12-15 minutes, flipping once halfway through. The calamari rings are done when they turn golden brown and the internal temperature reaches 145°F.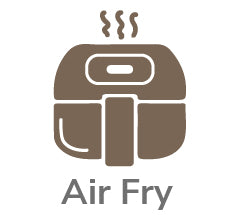 How to Air Fry Calamari
Preheat air fryer to 325°F. Spray the basket with nonstick cooking spray or oil. Add the frozen calamari to the basket in a single layer and cook for 10-12 minutes, shaking the basket halfway through. Remove calamari from the air fryer once they turn golden brown and the internal temperature reaches 145°F.

Cooking times and temperatures may vary based on the method of preparation and the thickness of the fish. Test for doneness with a meat thermometer.
Try It Tonight
Breaded Calamari with Homemade Tartar Sauce & Chipotle Sauce
Searching for a quick and easy appetizer for your next party or family gathering? Try this recipe for breaded calamari with a choice of classic homemade dips.

Featuring tender calamari rings coated in a crispy golden breading, just waiting to be dipped in cool and tangy tartar sauce or rich and creamy chipotle sauce. A party platter favourite!
Nutrition Facts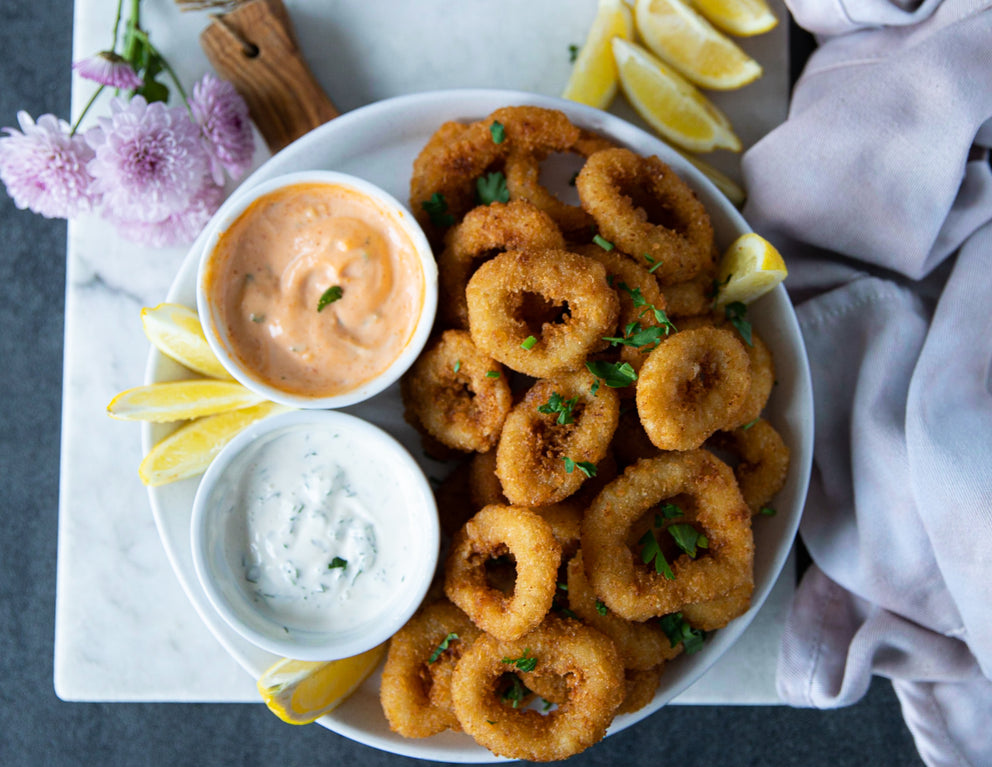 INGREDIENTS: Squid, Water, Enriched flour, Canola oil, Thickeners, Wheat gluten, Salt, Dextrose, Acidity regulators, (Sodium bicarbonate, Sodium citrate, Potassium carbonate), Egg white powder, Soy flour, Yeast, Food acid (citric), Antioxidant, Flavour enhancer
Nutrition Value
Serving Size (100g) / Portion (6 Squid Rings / 6 Anneux de Calmar)
Amount
% Daily Value
Calories 190
Fat / Lipides 9g
14%
Saturated / Saturés 1g
+ Trans 0g
1%
Carbohydrate / Glucides 19g
2%
Fibre / Fibres 1g
Sugars / Sucres 1g
Protein / Protéine 18g
Cholesterol / Cholestérol 200mg
Sodium 440mg
18%
Vitamin A / Vitamine A
0%
Calcium
8%
Iron / Fer
6%
Vitamin C / Vitamine C
6%
Potassium
Vitamin D / Vitamine D
0%