Breaded Bar Clams
(Item #62) One large, 2.5lbs resealable bag of Atlantic Breaded Bar Clams (8 x 4.9oz servings) in a light, crispy coating.

Wild caught off the coast of Atlantic Canada, Sealand's Breaded Bar Clams are harvested using traditional methods, ensuring only the freshest and finest quality. Individually Quick Frozen for ultimate convenience and taste, these clams have a light breaded coating that enhances the natural flavour with every bite. Serve them with a zesty tartar sauce and a side of crispy French fries for a quick and delicious meal.

$11400
---
What you Get
In The Box
- Box contains 1 Large Resealable Bag of Breaded Bar Clams (by weight)
- Box weight: 1.12 kg (2.5lbs)


Suggested Servings
- Suggested Serving Size per the Nutrition Facts label - 140g (4.9oz)
- Contains approximately 8 x 140g (4.9oz) servings
Best Ways to Cook
Here at Sealand Quality Foods, our premium products are Individually Quick Frozen in right-sized portions for the perfect serving every time. For best results, Cook Breaded Bar Clams from frozen using one of these simple cooking methods.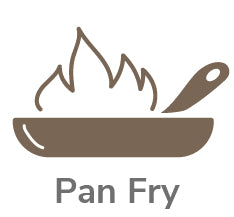 How to Pan Fry Breaded Bar Clams
Heat canola oil in a high sided, non-stick frying pan for 2 minutes over high heat. Carefully add frozen breaded bar clams to the oil and reduce heat to medium-high. Fry clams for 2 minutes, then turn and cook for another 3 minutes or until the internal temperature reaches 145°F. Turn off heat, remove clams with a slotted spoon and place on a paper towel. Alternately, deep fry the breaded bar clams at 400°F for 1 to 1 1/2 minutes.
How to Bake Breaded Bar Clams
Preheat oven to 375°F. Place frozen bar clams about 1 inch apart on a shallow baking dish in the middle rack of your oven. Bake for 12-15 minutes or until the internal temperature reaches 145°F and the coating is golden and crispy. Squeeze lemon juice over clams and serve with cocktail or tartar sauce.

Cooking times and temperatures may vary based on the method of preparation and your desired degree of doneness. Test for doneness with a meat thermometer.
Nutrition Facts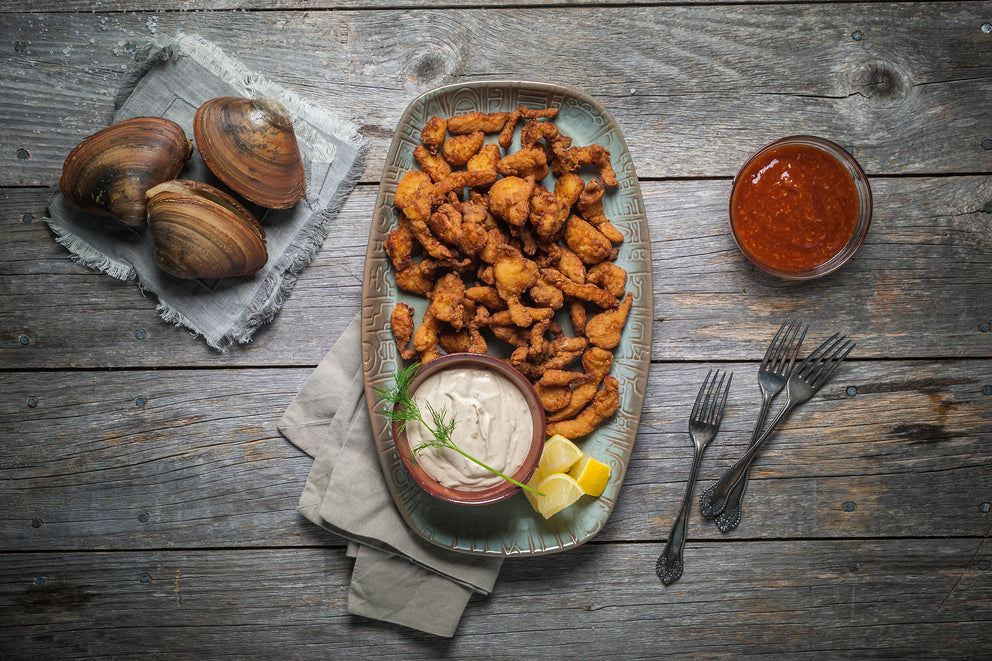 INGREDIENTS: Bar Clam meat, enriched wheat flour, corn flour,water, baking powder, canola oil, salt. MAY CONTAIN: Milk, Wheat, shellfish, corn.
Nutrition Value
Serving Size (280g) / 2 Portions
Amount
% Daily Value
Calories 660
Fat / Lipides 32g
43%
Saturated / Saturés 3g
+ Trans 0.3g
18%
Carbohydrate / Glucides 43g
Fibre / Fibres 1g
4%
Sugars / Sucres 3g
3%
Protein / Protéine 46g
Cholesterol / Cholestérol 90mg
Sodium 1300mg
57%
Vitamin A / Vitamine A
0%
Calcium 125mg
10%
Iron / Fer 5.5mg
31%
Vitamin C / Vitamine C
0%
Potassium 700mg
16%
Vitamin D / Vitamine D
0%