Almond Crusted Sole Fillets
(Item #79) 12-14 delicious crispy Almond Crusted Sole Fillets (15 x 5oz servings).

Sealand's Almond Crusted Sole Fillets are coated with toasted wheat crumbs and sliced almonds. Each delicate fillet is seasoned with zesty lemon, garlic, and chives. Encrusted pieces of sole are Individually Quick Frozen (iQF) for right-sized portions so you only use what you need. Easily cook directly from frozen for a quick and delicious main dish.

$12100
---
What you Get
In The Box
- Box contains 1 Large Sealed Bag with 12-14 Almond Crusted Sole Fillets (by weight)
- Box weight: 2.27kgs (5.0lbs)


Suggested Servings
- Suggested Serving Size per the Nutrition Facts label - 142g (5oz)
- Contains approximately 15 x 142g (5oz) servings
Best Ways to Cook
Here at Sealand Quality Foods, our premium products are Individually Quick Frozen in right-sized portions for the perfect serving every time. Cook your Almond Crusted Sole Fillets from frozen using one of these easy methods.
How to Bake Almond Crusted Sole
Preheat oven to 375°F. Place frozen fillets on a lightly oiled baking sheet. Bake for 28-30 minutes or until the internal temperature at the thickest part of the fish reaches 145°F. For a crunch, broil for an additional 2-3 minutes.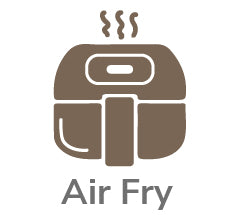 How to Air Fry Almond Crusted Sole
Preheat air fryer to 350°F. Cook frozen sole for 23 minutes (flipping halfway through) or until the internal temperature of the fish reaches 145°F. The fillets should have a crispy golden crust.

Cooking times and temperatures may vary based on the method of preparation and the thickness of the fish. Test for doneness with a meat thermometer.
Nutrition Facts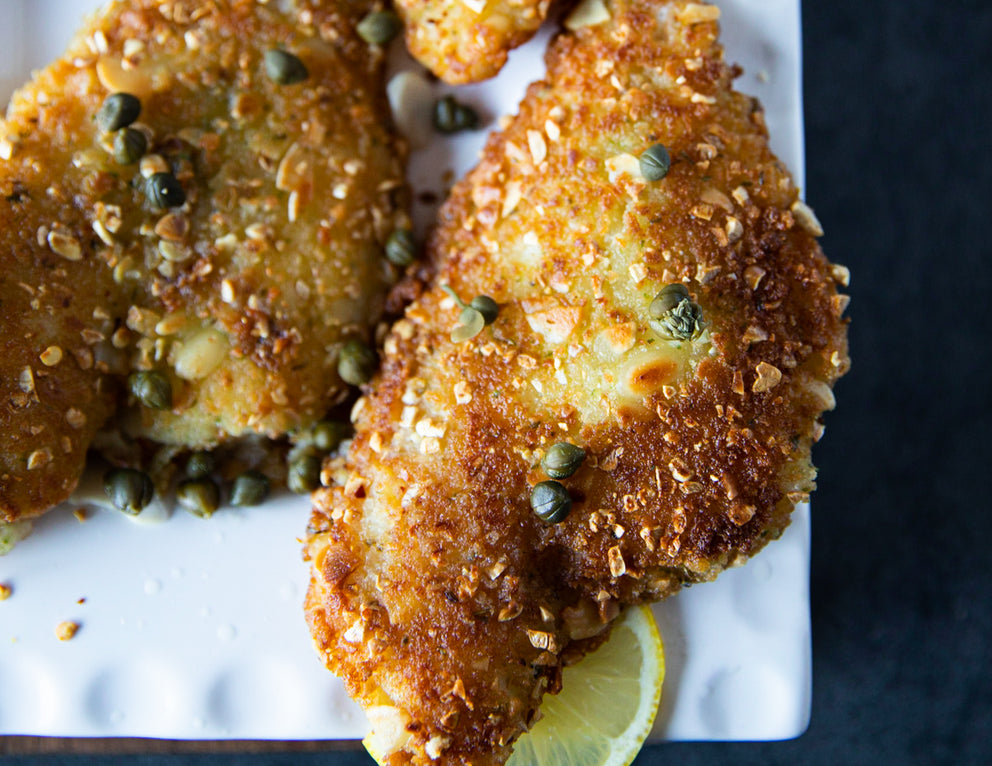 INGREDIENTS: Sole fish fillets, water, toasted wheat crumbs, sliced almonds, soybeans, flour (wheat, corn, soy), modified starch (corn), salt, sodium phosphate, vegetable oil shortening (soya), chives, seasonings (spices, onion, garlic), dried egg-white, sugar, baking powder, colour (caramel, paprika), flavour (almond, lemon, mustard), disodium inosinate, disodium guanylate, dextrose, yeast extract, torula yeast. browned in soybean, cottonseed, or canola oil. Allergens: Fish, Tree Nuts, Egg, Soy, Wheat. May Contain: Dairy.
Nutrition Value
Serving Size (142g) / 1 Portion
Amount
% Daily Value
Calories 200
Fat / Lipides 9g
14%
Saturated / Saturés 1.5g
+ Trans 0g
8%
Carbohydrate / Glucides 11g
Fibre / Fibres 0g
0%
Sugars / Sucres 0g
0%
Protein / Protéine 18g
Cholesterol / Cholestérol 50mg
Sodium 640mg
27%
Vitamin A / Vitamine A
0%
Calcium
6%
Iron / Fer
8%
Vitamin C / Vitamine C
0%
Potassium
0%
Vitamin D / Vitamine D
0%