10oz Tenderloin Steaks - Chateaubriand for Two
(Item #82) Eight 10oz Tenderloin Steaks - Chateaubriand for Two, with a velvety texture and exquisite taste.

Made from the finest tenderloin beef, Sealand's Individually Quick Frozen (iQF) Chateaubriand tenderloin is expertly trimmed and portioned for two. This robust cut is designed to impress with delicate beef flavour and incredible tenderness. Considered the most decadent beef roast, Chateaubriand for two is the ideal romantic dinner at home!

$28900
---
What you Get
In The Box
- Box contains 8 x 10oz Individually Vacuum-Packed 10oz Tenderloin Steaks - Chateaubriand for Two
- Minimum Box weight: 2.27kgs (5.0lbs)

Suggested Servings
- Suggested Serving Size per the Nutrition Facts label - 100g (3.5oz)
- Contains approximately 18 x 100g (3.5oz) servings
Best Ways to Cook
We recommend that all our beef products be thawed out of packaging for 24 hours in the refrigerator and brought to room temperature prior to cooking (unless otherwise stated). Follow these steps to create a perfect balance of natural flavour, texture, and aesthetic appearance.
How to Bake Chateaubriand
Preheat oven to 425°F. Season the Chateaubriand with sea salt and pepper, or other as desired. Place the beef in a shallow roasting pan on the middle rack of the oven. If available, insert an ovenproof meat thermometer so the tip is centered in the thickest part of beef, and not resting in any fat. Do not add water or cover.

Roast for 35-50 minutes, or until the internal temperature registers 5-10°F lower than your desired doneness (see internal temperature guidelines below).

Let the Chateaubriand rest for 3-5 minutes prior to serving. Temperature will continue to rise while resting.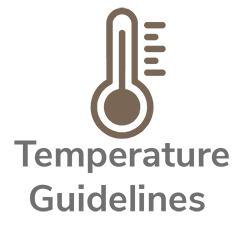 Internal Temperature Guidelines for Cooking Steak
Rare: 125°F, 52°C - Cool to warm red centre and soft texture
Medium Rare: 135°F, 57°C - Warm red centre with brown crust
Medium: 145°F, 63°C - Hot pink centre and slightly firmer texture
Medium Well: 150°F, 66°C - Mostly brown centre and firm texture
Well Done: 160°F, 71°C - Brown centre and very firm texture

Cooking times and temperatures may vary based on the method of preparation and your desired degree of doneness. Test for doneness with a meat thermometer.
Nutrition Facts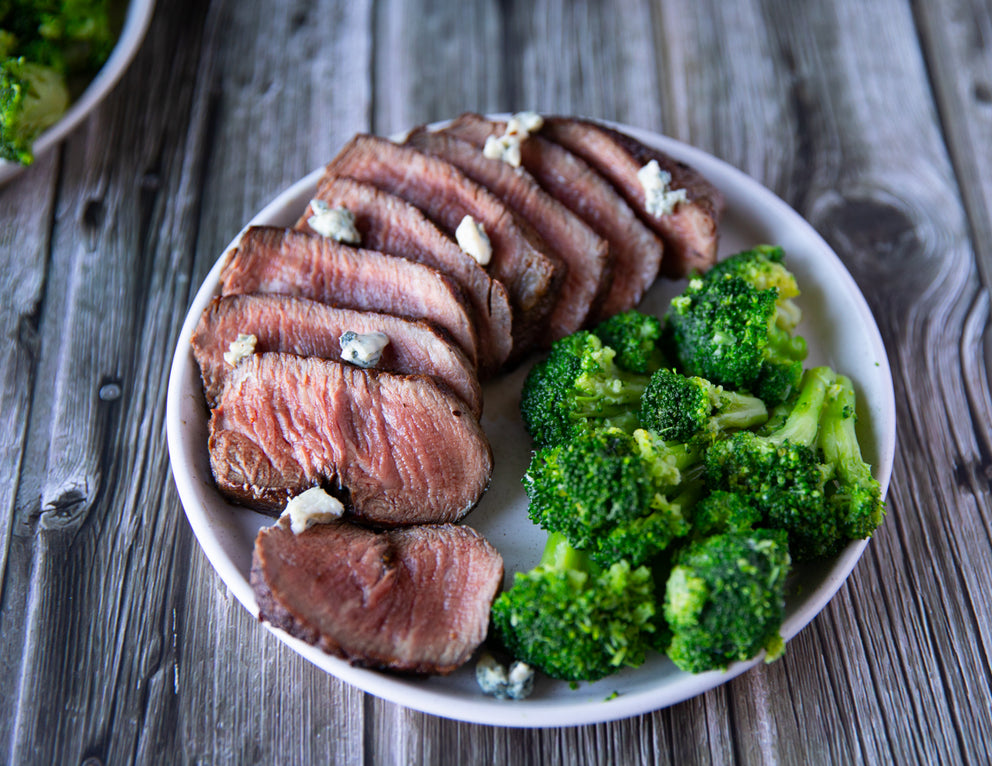 INGREDIENTS: Beef Tenderloin
Nutrition Value
Serving Size (125g) / Portion (1/2 Steak / 1/2 Bifteck)
Amount
% Daily Value
Calories 200
Fat / Lipides 10g
13%
Saturated / Saturés 4g
+ Trans 0.3g
36%
Carbohydrate / Glucides 0g
Fibre / Fibres 0g
0%
Sugars / Sucres 0g
0%
Protein / Protéine 26g
Cholesterol / Cholestérol 70mg
Sodium 75mg
3%
Vitamin A / Vitamine A
0%
Calcium 10mg
1%
Iron / Fer 3.5mg
19%
Vitamin C / Vitamine C
0%
Potassium 350mg
7%
Vitamin D / Vitamine D
0%