Warm Water Lobster Tails
(Item #19) 5-8 delicious Warm Water Lobster Tails (16 x 4oz servings), in a resealable bag.

Wild-caught from pristine coastal waters and immediately Individually Quick Frozen (iQF) for ultimate freshness. These lobster tails truly are the king of seafood. With their luxurious, meaty texture and succulent, sweet taste, they guarantee an unforgettable dining experience. Pick up a box of Sealand's Warm Water Lobster Tails and experience oceanic opulence at its finest.

$23400
---
What you Get
In The Box
- Box contains 1 Large Resealable Bag with 5-8 Warm Water Lobster Tails (by weight)
- Minimum Box weight: 1.8kgs (4.0lbs)

Suggested Servings
- Suggested Serving Size per the Nutrition Facts label - 112g (4oz)
- Contains approximately 16 x 112g (4oz) servings(3.5oz) servings
Best Ways to Cook
We recommend that all our seafood products be thawed out of packaging for 24 hours in the refrigerator prior to cooking (unless otherwise stated). Lobster tails can be prepared in a variety of ways - give one of these simple cooking methods a try today.
How to Bake Lobster Tails
Preheat oven to 425°F. Butterfly lobster tails by cutting lengthwise through the centers of the hard top shells and meat with kitchen shears. Cut to, but not through, the bottoms of the shells. Spread the tail halves apart. Carefully lift the lobster meat through the slit, keeping it attached at the base, and rest it on top of the shell.

Place the prepared lobster tails on a baking sheet and brush the exposed meat with melted butter or olive oil. Season the lobster tails with any desired spices or add a small pat of butter. Bake the lobster tails in the preheated oven for approximately 12-15 minutes until the meat is opaque and firm and the internal temperature reaches 145°F in the center of the tail. Once cooked, remove the lobster tails from the oven and let them rest for a few minutes before serving.

Cooking times and temperatures may vary based on the method of preparation and your desired degree of doneness. Test for doneness with a meat thermometer.
Try It Tonight
How to Cook Lobster
Have you been searching for the perfect way to cook lobster tails? The key is to keep it simple and let the lobster do the work for you!
Just follow these quick and easy instructions for restaurant quality lobster that's perfect every single time.

You can also try our Seafood Chowder with succulent pieces of Warm Water Lobster Tails.
Nutrition Facts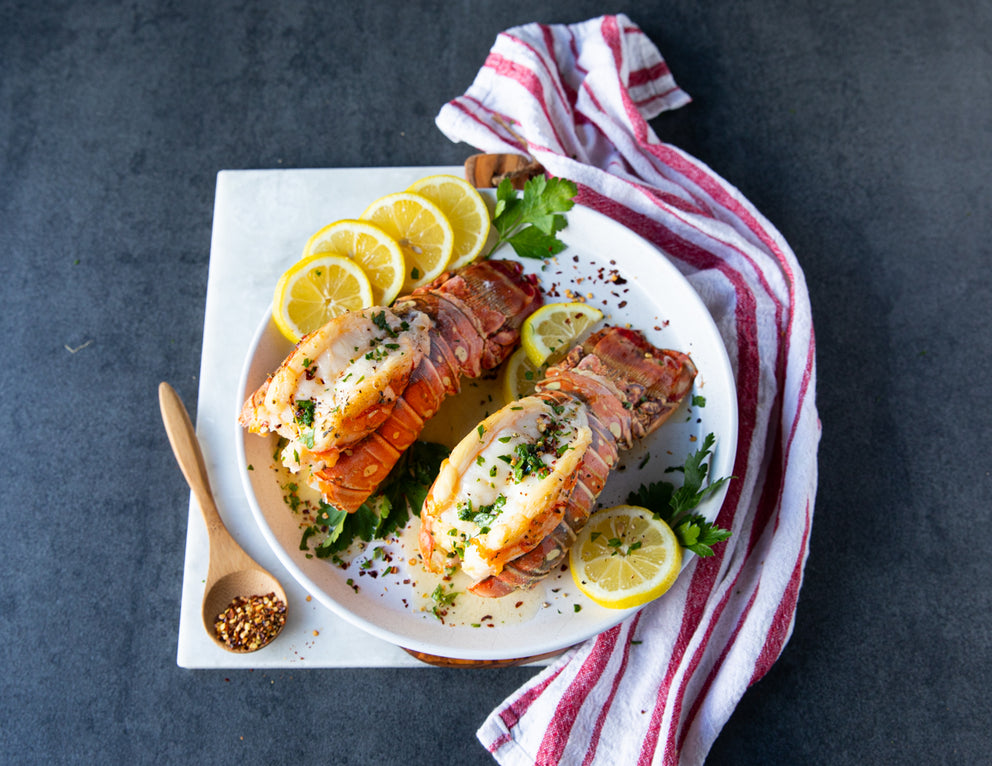 INGREDIENTS: Lobster Tails
Nutrition Value
Serving Size (112g)
Amount
% Daily Value
Calories 90
Fat / Lipides 1g
1%
Saturated / Saturés 0g
+ Trans 0g
0%
Carbohydrate / Glucides 1g
Fibre / Fibres 0g
0%
Sugars / Sucres 0g
0%
Protein / Protéine 20g
Cholesterol / Cholestérol 95mg
Sodium 300mg
12%
Vitamin A / Vitamine A
2%
Calcium
6%
Iron / Fer
2%
Vitamin C / Vitamine C
0%
Potassium
0%
Vitamin D / Vitamine D
0%