Chicken and Vegetable Dumpling Gyozas
(Item #48) 90-100 mouthwatering Chicken and Vegetable Dumpling Gyozas (22 x 3.2oz servings).

Sealand's Asian-inspired Gyoza dumplings are handmade with fresh vegetables and flavourful chicken. Lightly wrapped and Individually Quick Frozen (iQF) for the perfect balance of texture and flavour, these Gyozas make for a great appetizer or main dish. Enjoy them steamed, pan-seared or air-fried and serve with your favourite dips for a crowd-pleaser that will leave everyone wanting more.
$10400
---
What you Get
In The Box
- Box contains 2 Sealed 1kg Bags, each containing 45-50 Chicken and Vegetable Dumpling Gyozas (by weight)
- Minimum Box weight: 2.0kgs (4.4lbs)

Suggested Servings
- Suggested Serving Size per the Nutrition Facts label - 92g (3.2oz)
- Contains approximately 22 x 92g (3.2oz) servings
Best Ways to Cook
Here at Sealand Quality Foods, our premium products are Individually Quick Frozen in right-sized portions for the perfect serving every time. Cook Chicken and Vegetable Dumpling Gyozas from frozen using one of these simple cooking methods.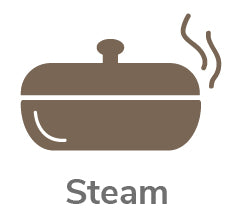 How to Steam Dumplings
Fill a pot with a couple of inches of water and bring it to a boil. Place a steamer basket over the boiling water. Add the frozen dumplings to the steamer basket, making sure they are not touching each other. Cover the pot with a lid and steam the dumplings for 8 minutes or until they are heated through and the wrappers are soft and tender. Carefully remove the dumplings from the steamer basket and serve.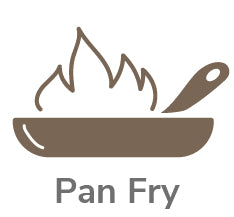 How to Pan Fry Dumplings
Add oil to a non-stick pan and preheat over medium heat until hot. Place dumplings into the plan, making sure they are not touching each other.

Let the dumplings cook for 1-2 minutes or until the bottoms turn golden brown. Carefully add about 1/4 cup of water to the pan (be cautious as the oil may splatter) and immediately cover the pan with a lid to create steam.
Steam dumplings for 3-4 minutes or until the water has evaporated. Remove the lid, and continue to pan fry the dumplings for an additional 1-2 minute until bottoms are crispy. Remove from pan and serve.

Cooking times and temperatures may vary based on the method of preparation and your desired degree of doneness. Test for doneness with a meat thermometer. Temperature will continue to rise while resting.
Nutrition Facts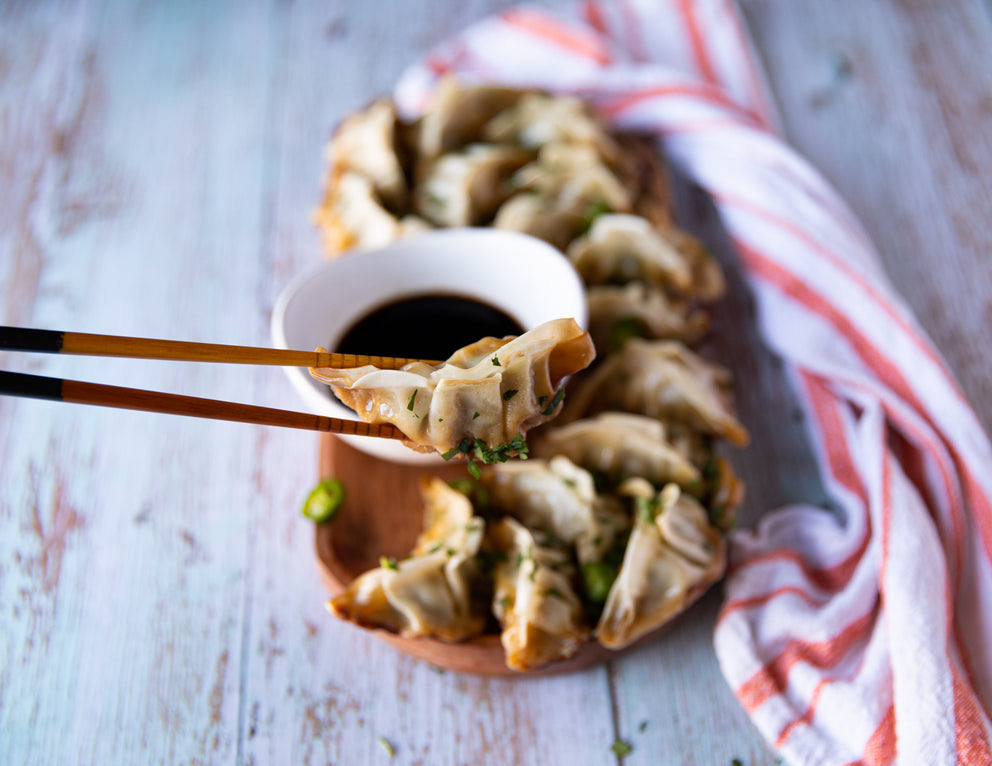 INGREDIENTS: Filling: Chicken, cabbage, water, green onion, canola oil, sugar, yeast extract, salt, spices, and sesame oil. Wrapper, Wheat, Flour, water, canola oil, salt, and sugar. Allergens: Wheat, Soy. May Contain: Sesame.
Nutrition Value
Serving Size (92g)
Amount
% Daily Value
Calories 130
Fat / Lipides 9g
Saturated / Saturés 1.2g
+ Trans 0g
Carbohydrate / Glucides 9g
Fibre / Fibres 4g
Sugars / Sucres 2g
Protein / Protéine 21g
Cholesterol / Cholestérol 9mg
Sodium 510mg
Vitamin A / Vitamine A
Calcium
Iron / Fer 1.8mg
Vitamin C / Vitamine C
Potassium
Vitamin D / Vitamine D